Tabs is a Unique Database of Information on Therapeutic Antibodies
Tabs contains detailed information on almost 2000 therapeutic antibodies, targeting more than 750 antigens, being developed by more than 600 companies.
This represents an unrivaled resource for biotechnology companies working in this field. Business Development staff can see the big picture of who else is working in a specific area. Researchers can drill down to the supporting data associated with each antibody.
Learn how Tabs can help in Business Development
Tabs is Comprehensive
Each antibody in Tabs is linked to clinical trials, papers, patents, regulatory actions, press releases and more, making exploration of a candidate quick and easy.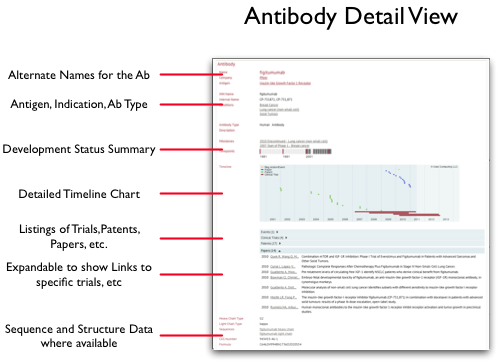 Tabs records all the names that identify a given antibody. This feature alone is extremely valuable as the different names given to a molecule as it progresses through trials and business partnerships can make tracking its development difficult and frustrating. Tabs has done that work for you.
Sequences of the antibodies are available where these can be assigned unambiguously. If the protein structure has been determined then those records too are linked.
Around 60% of the antibodies in Tabs are Preclinical development. While other resources focus on those in trials, Tabs offers the complete picture and shows you what the competition is working on. Importantly, Tabs tracks antibodies that are both under active development and those that have stalled or been discontinued.
Tabs is Easy to Use
Tabs has effective Searching built in. You can find all antibodies that target a given antigen or that are being developed by a given company. You can search antibodies, antigens, patents, papers, etc using text fragments.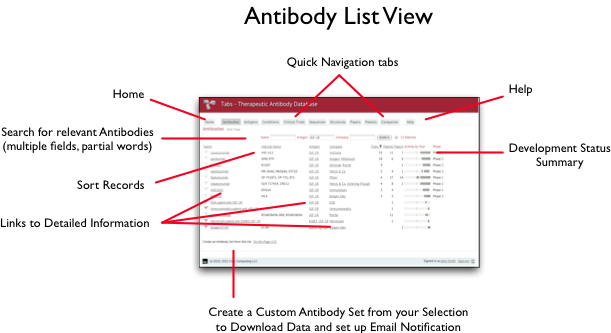 You can create custom sets of antibodies that are of particular interest. With these you can be notified by email whenever new relevant data is added to the database. Tabs keeps you current without you having to scan multiple data sources yourself. This is particularly important for the patent databases.
Data from Tabs can be downloaded to your desktop for further analysis. Reports on patents, trials etc can be viewed in Excel and citations for relevant papers can be loaded directly into popular reference management programs. Sequences can be downloaded in Fasta format and processed structural data can be viewed in Pymol.
Tabs is Cost Effective
A straightforward annual subscription of $5,000 provides Unlimited access to an Unlimited number of users at your site.
If you work in the field of Therapeutic Antibodies you need Tabs.
Sign up now for a Free 30 day trial