In the exploding field of Therapeutic Antibodies, you need to keep on top of ALL the data…
Who else is working on mAbs against our target?
What development stage have they reached?
Who are they working with?
What is the IP landscape?
Are there any good licensing/partnering prospects?
Conventional Biotech databases lack both the focus and the depth of original data to be of much practical use in our field – Tabs covers Therapeutic Antibodies and nothing else.
Tabs offers unrivaled coverage with almost 2000 antibodies at all stages of development, against more than 750 Antigens and being developed by more than 600 companies.
Each antibody record is linked to relevant patents, papers, clinical trials, sequences, etc. that number around 20,000 in total.
Furthermore, Tabs is constantly updated with new data – the number of records added in the past week is right there on the Home Page.
Tabs is the most comprehensive database on Therapeutic Antibodies available
---
Tabs offers a Unique View of Antibodies in Pre-Clinical Development
Nearly Two Thirds of all therapeutic antibodies are in pre-clinical development. If you are only looking at Abs that are in trials or on company web sites then you are only seeing part of the picture.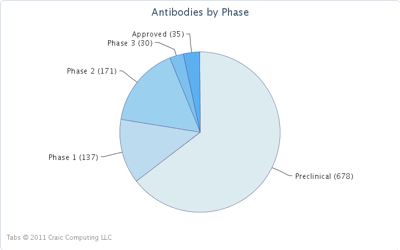 By mining the Patent literature, Tabs can identify novel antibodies, in early stage development, months or years before they are formally announced.
This is a Unique insight that you simply cannot afford to ignore.
---
Easy To Learn – Easy To Use
If you've been frustrated with the clunky interfaces of other biotech databases then you'll appreciate Tabs.
We've designed the front end to take to you quickly to the data that you need, combining useful summaries, detailed views and links to all the original data.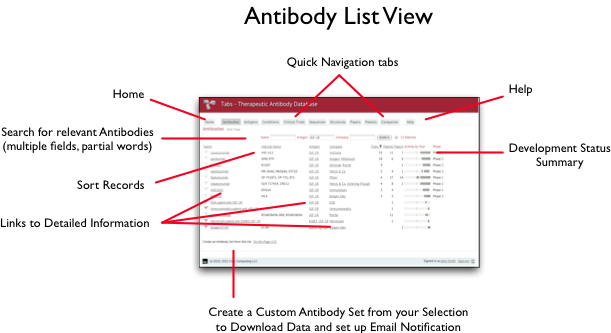 The database will pay for itself in the time you save researching a single target.
Give it a try and see for yourself – Sign up now for a Free 30 day trial
---
An Example – Antibodies against IL-6
Let's say you want to see the competitive landscape of antibodies against IL-6
1: Use the flexible Search tools to select the antibodies of interest
2: Store that selection in an Antibody Set
Sets provide a convenient way to access and browse relevant Antibodies and the overview page provides a basic view of developments
3: View a summary of the Abs and drill down for detailed information on each antibody

4: For more detail view the comparative graphic of progress for all mAbs in a set.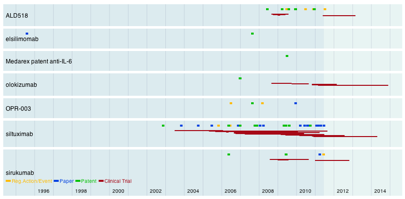 5: View the associated data for All members of your set and Download to Excel.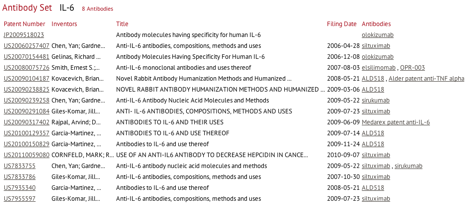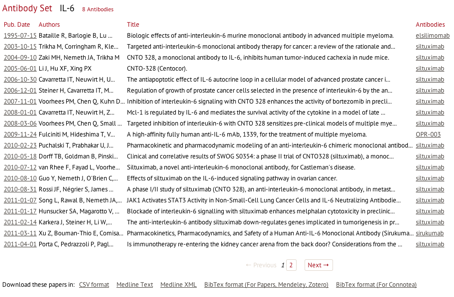 Import citations for relevant papers directly into common reference manager software such as Papers or Mendeley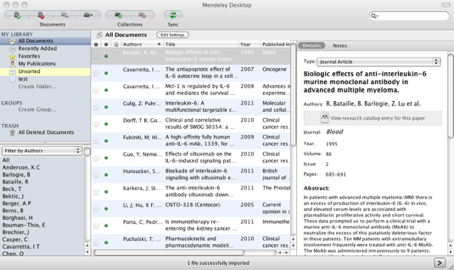 ---
Stay Up To Date with Email Notification
New records are added to the database all the time – you need a way to keep up with what's new
Whenever relevant new data is added to the system, Tabs will send you an email that links you directly to those records.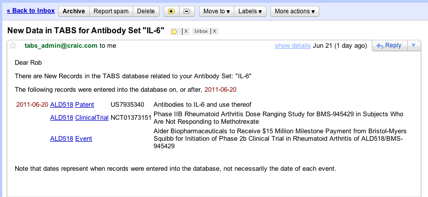 Most Biotech news services give you Press Releases and commentary – but Tabs Notification takes you to the original data.
Notification is included in your company subscription – no extra charge